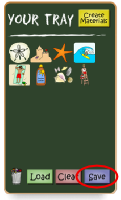 Building a Collection of Pictures
There are times you may need a collection of pictures to use again later. LessonPix provides users the option to save a collection of pictures into "Your LessonPix". It is very simple.
Click save at the bottom of the tray. Enter a Collection Name to help you identify it. This save your collection of pictures under "Your LessonPix".
When you view the saved collection, you can rename pictures and load the group of pictures into the tray at one time.
If you decide to add more pictures to a collection, just click "Save" and choose the title of the collection you wish to add pictures.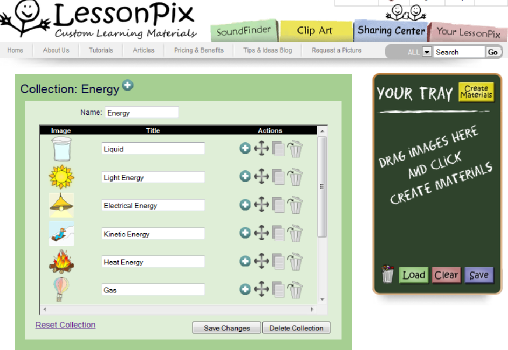 There are many reasons to create a collection of pictures depending on your need. Here are some ideas for making collections:
Class Rules: Select a group of pictures that represent your classroom rules and save the collection. Use the pictrues to create class rules chart and visual supports. Then you can use the same pictures for data tally sheets, social stories, or individual visual needs.
Story: Pictures related to a story read such as Brown Bear by Bill Martin Jr. or Jack and the Beanstalk. Make activities using characters or vocabulary in the story.
Letter of the week: I create a group of pictures to use in a scavenger hunt, sorting activities, and with activities in my learning centers.
Speech: Group a collection of pictures related to a target sound, such as final /t/ or beginning /s/. Then you can saturate independent and group activities using pictures that contain the target sound.
Hygiene: You may create a collection of pictures to create visuals relating to "how to wash hands" or "how to use the bathroom". New visuals or social stories can be created later if needed.
Theme: If you teach according to themes such as in a preschool, you may deveop collections of pictures that relate to your themes. ie: feelings, farm unit, construction, or community helpers.
Now you can easily save a collection to use for a later date. Great time saver!