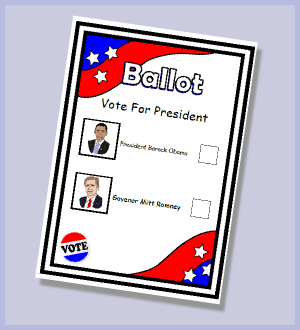 Election Ballots
Election Ballots are a great tool for teaching about elections and voting for class consensus. The Ballots come in 3 styles: "Red, White, and Blue", "Blue Stars" and "Plain" (black /white- save ink).
There are many ideas for using a ballot.
Use for mock elections in voting for president and teaching about a representative democracy.
Vote for favorite snack or treat (click image for free sample)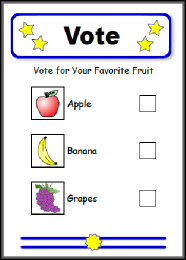 Vote for favorite activity earned for a fun Friday or as a reward.
Vote for a field trip or movie as a special event
Select choice for lunch (not as a ballot, but choice list)
Choose a center or preferred activity following the completion of a non-preferred activity.
Vote for how to carve a class pumpkin (click image for free sample)
So quick and easy to create your custom ballots. And... less time to make, more time to teach!
Enjoy!