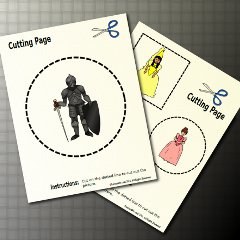 Cutting Shapes Template

The Cutting Shapes template is a simple template where pictures are placed inside simple shapes. Each shape is made of dotted lines to indicate where to cut or trace. Users can select 1 to 4 shapes per page.
There are four shapes to choose: circle, square, triangle, or pentagon. You can also choose "mixed", a combination of the different shapes.
Pictures can be selected for being a motivating, academic theme or vocabulary, or social skill. These pictures can support language needs to help with cross disciplines.
Students can trace or cut the lines to practice fine motor skills. Here are some ideas for students to use their shapes:
Pin and wear as a badge for positive behavior / reward
A tag for a gift
Make tokens for a game
Label for their folder/ belongings
Glue on a popsicle stick for stick puppets of a story
Trading cards and try to trade with peers to make a similar set (shape, color, category…).
Here is a Free Sample of Cutting Shapes with the Alphabet: